REIDS ROD PARTS inc ® & related Logo's are registered trademarks of REIDS ROD PARTS Inc.
Copyright © 2008. All Rights Reserved
The SO-CAL Speed Shop is now offering a Stage 4 hi boy roadster package that takes all the tedious foundation work out of your next hot rod project. Contact Reid's today to see how to get this project started.
SO-CAL has designed this package to cut a year of time out of any home built project. The package includes:

A rolling step boxed pinched-nose buggy spring frame.
As cast 4' dropped I-beam axle and polished S/S front end.
Vega cross-steering.
SO-CAL Front Brakes.
9" Currie rear end, complete new drum brakes, buggy sprung suspension with ladder bars.


A factory built steel Brookville body.
Other features
SO-CAL Speed Shop windshield.
SO-CAL Hot Rod Wheels including knock-offs, polished and fit with Firestone tires. (Or comparable wheel and tire combo of your choice.)
Brake lines and fuel lines installed.
Custom Glide seat brackets and seat belt mounts.
Dash insert features 6 gauge package, Mullins hot rod alloy column and re-enforced mount and 4 spoke wheel.
Fuel tank.
Grille shell.
Price $ 39,950.00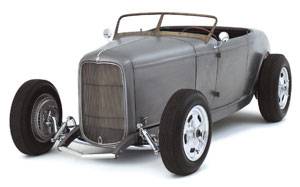 1932 BROOKVILLE BODY
Made in the USA from 68 separate pieces requiring 100 different dies, the Brookville "32 roadster body is, according to The Rodder's Journal, "The hot rod milestone of the last quarter century—maybe longer." With molds taken from an original "32 roadster, the Brookville is a faithful recreation of Henry's original, right down to the inner panels, seat risers, handles, latches, etc., with the exception of the lip around the back of the seat which held the stock tack strip. The Brookville '32 roadster body is everything you've ever dreamed of in a steel body and comes completely assembled.
Starting @ $11,000. Call or E-Mail for options

Brookville '32 roadster body options include:
| | | | |
| --- | --- | --- | --- |
| | Smooth doors | | Hidden hinges |
| | Flat floor | | Firewall |
| | Smooth or vented cowl | | Trunk or rumble seat |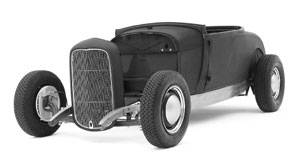 1929-1931 BROOKVILLE BODY
More readily available is the Brookville 1928-'29 hi boy roadster body which, of course, can be used with the new SO-CAL A-V8 chassis. The bodies are built to the same high standards as the '32 bodies and all parts are interchangeable with the original car, including the stock cowl-mounted gas tank which is customer supplied. And, similar options are available to Brookville's '32 Roadster bodies.
Call or e-mail us for further information and when the next one is coming.
1930 1931 Sun Visor Coupe, Pickup & Tudor

HOW A-817A.............Price $82.00

1930 1931 Sun Visor Coupe, Pickup & Tudor

HOW A-817B.............Price $139.00

EARLY ROADSTER HOODS

DUE TO THE HIGH NUMBER OF OPTIONS WITH THIS ITEM IT IS BEST TO CALL OR EMAIL FOR MORE INFO

32 METAL GRILL SHELL

This stamped steel grille shell, filled and built to exacting standards. Available in Smooth or Stock style

BLISTER

Drawn from 16-gauge steel, this blister is an awesome piece that can be used for everything from hood side blisters to making miniature belly tanks. The blisters are 18 inches long by 6 inches wide at the fattest part of the belly and they're 3-1/4 inches deep at the waist. Also, because of the way they are carefully drawn, they can be easily cut out with a flange and bolted or riveted into a hood side or top for a very cool look.
Sold Individually

| | | | |
| --- | --- | --- | --- |
| Part | Disc. | Price | |
| SOC-SSS-10002 | Blister | $39.95 | |

1928-1929 Grill Shell

Beautiful grill shell for 1928-1929 radiators. Exact duplicates of original, with crank hole and water neck. 29" tall. Stamped steel. Available in Black and Chrome.

STOCK REPRODUCTION STEEL FIREWALL

| | | | |
| --- | --- | --- | --- |
| Part | Disc. | Price | |
| WYS WP2000 | 1932 FORD FIREWALL. | $750.00 | To order please E-mail, Call or Fax |

AMERICAN MADE STEEL FIREWALL

Tired of looking for salvageable original "32 firewall? This reproduction is the most faithful available and features an authentic center section, original-style double beaded cowl seal and original-style pressed steel feet. One of the best on the market it also features a stamped mount for the BEEHIVE OIL FILTER.

| | | | |
| --- | --- | --- | --- |
| Part | Disc. | Price | |
| SCA FW001 | 1932 FORD FIREWALL. | CALL FOR AVAILABILTY | To order please E-mail, Call or Fax |

NEW - 1933-34 Inner Fender Panels

1933 1934 Front Inner Fender Panels All Models. These are now instock and ready to take home today. Sold in Pairs.e

HOW VC-36 ………..$295.00

CLICK IMAGE FOR MORE INFO

NEW - UNIVERSAL TRANSMISSION TUNNELS

Available in long and short. $45-$49.95 each.
Attaches to the firewall support rods,. Folds out of the way and looks clean when installed. A must for anyone that is looking to show off that motor!
JEN HR-16780-F………$28.95

Cowl Lacing
1928-1929 VIN A-16740-AS….$12.00
1930-31 VIN A-16740-BS……..$12.00
1932 VIN B-16740-S…..$12.00
Radiator Lacing
1928-29 VIN A-16739-AS.……..$12.00
1930-31 VIN A-16739-BS……....$12.00
1932 VIN B-16739-S.………...$12.00

Cowl Spear– S/S- Long
'32 through '36 Fords. Because the spears are attached with automotive-grade double-sided tape, they can be adapted to many vehicles. They can also be cut to fit across a cowl vent if the short spear is not the desired look.
SOC 62001 ………..$39.95

Cowl Spear - Short
SOC 62163……………$20.00


Rear Hinge 1932 VIN B-8221……$13.00

These SO-CAL hood latch mounting plates are used on all the SO-CAL built hi boy Roadsters. SOC 62161……………$15.00pr

( A ) S/S Latch:
VIN B-16750-SS……$15.00ea

Latch Painted Black
VIN B16750-BK….…..$9.95ea

( B )Latch Hood Bracket S/S (SET OF 4) VIN B-16750HCSS…...$40.00

( C ) Hood Latch Spacer:
SOC B-62189…………19.95pr

1932-1936 UP A6203……29.95 pr


1928-1931 UP A6201…..$29.95 pr

Black - UP A8019......................$6.00

S/S - VIN B-8130-SS................$12.00

Support Rod Brackets S/S
UP A8036………$9.95pr