Model A and Early Ford Closed Car Windshields
Reid's Rod Parts carries a wide range of closed car windshields to fit most '28 through '36 Fords. They're available in raw steel or chrome plated but come without glass or hardware.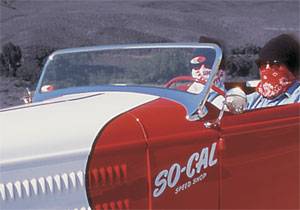 Designed by Pete Chapouris and Jim "Jake" Jacobs, with a jump start from Chip Foose, the SO-CAL Windshield is a beautifully executed cast brass alternative that embodies classic roadster styling. Chopped just right and raked at 32 degrees, the SO-CAL Windshield has been hand-crafted to fit the '32 roadster (it covers the stock stanchion holes). It can be used with a stock cowl vent and windshield dam.
NOTE: Due to the variances in body dimensions, the windshield will need custom fitting for each application. Comes complete with installation instructions and hardware. Glass and plating are not included.
| | | | |
| --- | --- | --- | --- |
| Part | Disc | Price | |
| SOC-60420 | SO-CAL WINDSHIELD FRAME | DISCONTINUED | To order please E-mail, Call or Fax |
High quality frame cones are chrome plated die cast. Vintique windshield frame studs are made with the correct shoulder and tapered nut. Thread: 3/8-24 both ends. Studs are USA made.
| | | | |
| --- | --- | --- | --- |
| Part | Disc | Price | |
| VIN 18-37154 | CONES | $4.95ea | |
| UP A8043 | STUDS | $5.95 | |
WINDSHIELD WINGNUT
1932-36 Open Cars
Show quality die cast, chrome plated.
Thread: 3/8-24
| | | | |
| --- | --- | --- | --- |
| Part | Disc | Price | |
| VIN B-351000 | Wing-nuts | $6.50ea | |